A Wisconsin truck driver is off a ventilator and recovering from the coronavirus at home.Continuing Coverage: Coronavirus in WisconsinCommunity members held a truck parade last Sunday as a show of support for Billy Shultz."I want to help as many people as I can beat this," he said this Sunday. "It's a very scary thing. It's very real, but like I said, it can be beat."Shultz spent nearly two weeks on a ventilator in a hospital intensive care unit."I was told that people that, when people get put on ventilators, they get a 20 percent chance of getting off of them, and that was very scary," he said.The 27-year-old father of two is a truck driver who had been delivering essential goods in cities considered to be coronavirus hot spots.That was until he tested positive for the virus."As truck drivers, we don't get PPE, that doesn't really exist in our line of work," Shultz said.He's not 100 percent sure how he got the coronavirus, but he said being sick definitely changed his view of it."I didn't believe in it. I didn't think it was anything to worry about necessarily," Shultz said.He wants his story to help others."I was in the ER at 4 o'clock. By 5 o'clock, I was in the ICU. By 8 o'clock, I was on a ventilator," Shultz said.He said he was thankful for the doctors and nurses at Froedtert Hospital who took care of him."I did receive a plasma transfusion from a prior COVID-19 patient to help fight this to help battle this," Shultz said.His family received the good news about his improving condition during the truck convoy in his honor."Let people know that this virus can be beat," Shultz said. "I want to spread hope to other people that they can beat it as well."He added that he donated his blood plasma to help save the lives of other patients battling the virus.Sign up for coronavirus email alerts from WISNGet breaking news alerts with the WISN 12 app.Follow us: Facebook | Twitter | Instagram | YouTube
MILWAUKEE —
A Wisconsin truck driver is off a ventilator and recovering from the coronavirus at home.
Continuing Coverage: Coronavirus in Wisconsin
Community members held a truck parade last Sunday as a show of support for Billy Shultz.
"I want to help as many people as I can beat this," he said this Sunday. "It's a very scary thing. It's very real, but like I said, it can be beat."
Shultz spent nearly two weeks on a ventilator in a hospital intensive care unit.
"I was told that people that, when people get put on ventilators, they get a 20 percent chance of getting off of them, and that was very scary," he said.
The 27-year-old father of two is a truck driver who had been delivering essential goods in cities considered to be coronavirus hot spots.
That was until he tested positive for the virus.
"As truck drivers, we don't get PPE, that doesn't really exist in our line of work," Shultz said.
He's not 100 percent sure how he got the coronavirus, but he said being sick definitely changed his view of it.
"I didn't believe in it. I didn't think it was anything to worry about necessarily," Shultz said.
He wants his story to help others.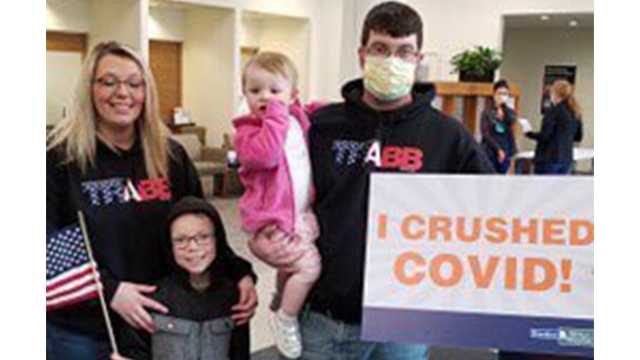 "I was in the ER at 4 o'clock. By 5 o'clock, I was in the ICU. By 8 o'clock, I was on a ventilator," Shultz said.
He said he was thankful for the doctors and nurses at Froedtert Hospital who took care of him.
"I did receive a plasma transfusion from a prior COVID-19 patient to help fight this to help battle this," Shultz said.
His family received the good news about his improving condition during the truck convoy in his honor.
"Let people know that this virus can be beat," Shultz said. "I want to spread hope to other people that they can beat it as well."
He added that he donated his blood plasma to help save the lives of other patients battling the virus.
Sign up for coronavirus email alerts from WISN
Get breaking news alerts with the WISN 12 app.
Follow us: Facebook | Twitter | Instagram | YouTube
Related Posts