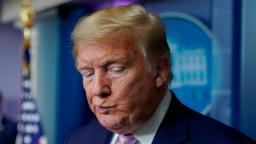 5. Monitor the market: If there is any single measure that President Donald Trump views as a leading indicator of his chances of winning a second term this fall, it's the Dow Jones Industrial Average.
From his tweets to his public pronouncements, Trump reveals that he is keenly aware of every soar (and dip) of the stock market.
There's no question that the state of the market has and will influence the decisions Trump makes about coronavirus and the ongoing debate over how long to keep the current social distancing measures in place.
Another extended dip — the likes of which we saw in mid- and late-March — would likely bring Trump close to pushing the "panic" button and re-opening the economy in hopes of avoiding a massive recession.
Remember, too, that the strength of the economy has long been Trump's, uh, trump card as it relates to his chances in November. If the economic struggles brought on by the coronavirus linger into the fall, Trump's odds of getting re-elected look longer.
Sanders' decision to remain on the ballot and, he hopes, continue to accrue delegates throughout the remainder of the primary process, in hopes of strengthening his bargaining hand going into the party's national convention can't thrill the Biden team.
Nor can Sanders' continued insistence than he won big parts of the primary.
A new CNN poll also highlighted the problem for Biden. Just more than half of Democrats (56%) said they were "extremely" or "very" excited to vote this fall. By comparison, 8 in 10 Republicans said they were "extremely" or "very" excited to cast a ballot in November.
Placating Sanders and his passionate supporters may hold the key for Biden to bump those enthusiasm numbers up. But if the past few days are any indication, Sanders won't make it easy for his former Senate colleague.
The vast majority of those governors (42) have issued stay-at-home directives that they — and only they — would have the power to remove. Trump can say whatever he likes about the national social distancing guidelines but he can't force a governor to lift their own orders.
And already some governors are speaking out about the possibility of Trump declaring the country open for business on May 1.
"We're going to make the decisions that safeguard New Mexicans," New Mexico Gov. Michelle Lujan Grisham (D) told CNN's Jake Tapper on Sunday. "I'll do what's best for New Mexico."
Watch in particular how Republican governors like Ohio's Mike DeWine, Massachusetts' Charlie Baker and Maryland's Larry Hogan — all of whom have been willing to buck Trump on this issue and others — say about the possibility of re-opening their states this week.
Trump can say whatever he wants. It's the governors where the rubber will meet the road on this.
2. Congress is at a coronavirus stalemate: After a $2 trillion economic stimulus package passed the House and Senate with significant bipartisan support, there was some hope that the coronavirus crisis might actually force more working together between the parties.
Over the weekend, McConnell and House Minority Leader Kevin McCarthy (R-California) issued a statement taking a very hard line on Democrats' demands.
"Republicans reject Democrats' reckless threat to continue blocking job-saving funding unless we renegotiate unrelated programs which are not in similar peril," they said.
So what do Democrats do now? Blink or call Republicans' bluff? And remember this: Any deal would have to be approved of by every member of Congress or all members would have to return to cast a recorded vote — which no one wants to do amid the coronavirus pandemic.
And with his aspirational goal of opening the country by Easter Sunday now passed, Trump's public comments reflect his itch to get back to normal — and his increasing belief that he needs to rely on his gut to make the right call.
It doesn't take a rocket scientist to see how Trump is planning to make the coronavirus decision — a decision with potential life-and-death consequences if it means that the virus again begins to spread throughout communities.
He's going with his gut.
Related Posts