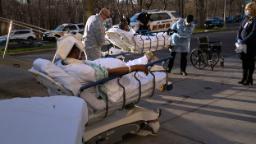 Fifteen years later, a new disaster, unleashed by a new disease. Now a desperate cry is coming from every corner of the country. But not everyone is shouting and not everyone is equally desperate.
The reason America has struggled to gain control of this new disease can be found at the intersection of politics, money and culture, rooted in two defining traits of our society in the age of coronavirus: extreme political polarization and rising inequality.
The former encompasses not just partisanship but also related issues like hostility to the media, science and civil servants; the latter is about the relationship between race and socioeconomic status and access to health care coverage.
Rising inequality
The novel virus does not care about your race or socioeconomic status, but data released by several states suggest your race and socioeconomic status — and everything that goes with it, including access to quality health care — could make a big difference in whether you contract the virus and whether you survive.
Behind America's enviable wealth and stability, there is another piece of the story — a less photogenic side of the American experience — where racial and economic inequality persist decades after the Civil Rights movement. The aftermath of Hurricane Katrina highlighted it, and today's crisis is exposing it once again.
For US Surgeon General Jerome Adams, who is black, it's personal. He has spoken openly about how the virus is hitting poor and minority communities particularly hard.
The reasons behind these disparities go beyond underlying health conditions, sometimes called co-morbidities.
Lack of health insurance
While health insurance coverage has expanded to more people across the country, in part through the Affordable Care Act, blacks still have consistently lower insurance coverage rates than whites.
According to the National Institutes of Health, racial and ethnic disparities in health insurance coverage rates account for a sizable share of the difference in access to health care.
It is no accident that one of the first hospitals to be overwhelmed by Covid-19 patients was in Queens, the New York borough known as the most diverse urban area in the world, with a large immigrant population.
Many in minority communities may also live in homes where it may be more difficult to "social distance."
In New York, blacks and Latinos make up much of the workforce in the kinds of service sector jobs that may leave them more exposed to the virus — like bus and subway drivers, grocery and convenience store clerks and people who work in food-related services.
Extreme partisan polarization
"We were messaging 'You should vote' and we were messaging 'stay home,' and it finally struck me, that just doesn't make any sense, and that's not fair and we're putting people at risk," the governor explained to CNN's Chris Cuomo Wednesday night.
Coronavirus may not care about your political party, but your political party is a strong indicator of how you feel about the threat posed by the virus and the job the federal government is doing to stop its spread.
Your politics may also impact the seriousness with which you view the kinds of "social distancing" measures experts say are essential to slowing the spread of the illness.
Other polling has borne out this trend.
Republicans may have been taking their cues from Trump and his media allies.
Hostility to the media, experts, science and civil servants
In the weeks since, Trump has become a fount of information, not all of it accurate, dispensed nearly daily from the White House briefing room podium to reporters he continues to blast as "fake news" and "terrible." Trump and his allies have consistently slammed the "mainstream media" and raised doubts about experts at every level. This crisis is no different and yet the consequences could be even more dire.
Instead of responding to a reporter's question about the shortages, the President questioned the political leanings of the HHS inspector general herself and suggested the report's conclusions were "political."
The stakes for dismissing expertise are particularly high now — when lives are at stake.
What will we learn?
A lot needs to happen for this crisis to end, including implementation of a vigorous testing regime to identify and track new infections. But Americans have a big part to play in getting us to a post-coronavirus America — both in how we choose to act and what we choose to believe.
Can we bridge the partisan divides, address the inequality that characterize this current climate and get behind the idea that "We're all in this together" by strictly adhering to stay-at-home orders? Or will mixed messages and confusion continue, particularly at the federal level?
And what about the future? Will this pandemic lead to changes to the way that the economy functions, with a stronger safety net for the low-income and the left-behind, including increased access to health care?
These debates will likely continue long after this is over. One thing most everyone with expertise agrees on? How this ends — and what we learn from it — will depend on us.
Related Posts